November 10, 2017, Cincinnati – In order to solve complex problems in IIoT application deployment as well as exploit its opportunities, Advantech (Taipei:2395) developed a deep learning architecture to help manufacturing, surveillance and healthcare customers develop and implement Artificial Intelligence (AI) in their solutions.
AI is impacting everything around us from production lines to medical clinic patient management, surveillance system usage and more, and companies are turning to deep learning to solve difficult AI problems which cannot be solved by traditional machine learning approaches. However, deep learning based on convolutional neural networks consumes enormous computational power. Thanks to high performance GPU computing, training servers can now handle huge data sets from the field to produce even better trained data models every day. After deploying trained models, edge inference systems can also leverage GPUs to make inference accuracy and prediction in real-time possible.
Advantech Trusted Deep Learning Solution Takes AI to the Next Stage
Business applications powered by deep learning are growing rapidly. Advantech knows the power of deep learning and its potential opportunities. Advantech's deep learning solution includes edge inference servers with powerful NVidia GPU cards and an SDK that delivers a potent package for IoT intelligence and edge computing. Advantech's deep learning solution library accelerates development in server training by deploying deep learning models that for example count the number of people on the street or that analyse traffic flow in real time.
In surveillance for example, traditional rule-based algorithms often encounter lots of false alarms or overkills in different environmental conditions. Lights, shadows, and even camera specifications all influence the counting results, and even setting rules can directly impact accuracy. Through deep learning though, all events occur in rule-based algorithms meaning that problems can be reduced significantly. Even more, the inference accuracy can be improved by recursively training servers, in other words, using rules that can be applied repeatedly produce better trained servers ready to be deployed.
For system integrators quickly developing AI applications for businesses, Advantech offers edge inference systems including the AiMC-3202 and MIC-7500 with powerful NVidia GPU add-on cards, plus training servers like the AGS-913 and HPC-7320. One stop shopping reduces hardware integration effort and compatibility issues from sensors to servers, and rich SDK libraries make software development less complicated.
Advantech's dedicated service team helps customers swiftly deploy an AI solution through consultation from experienced hardware and software integration experts. Our solution-ready platforms for training servers follow Tensorflow and Caffe frameworks. Advantech also provides a handy deep learning library to help you customize your AI applications, make AI machines, or even build Plug & Play edge inference devices.
Advantech offers a full AI product portfolio from training servers to edge inference systems and aims to be your first and best partner to implement AI deep learning into your applications. To find out more about Advantech's exciting deep learning solution for edge intelligence and AI applications, contact your nearest Advantech Sales office.

Processor: Dual Intel® Xeon® E5-2600 v4/v3 series

Memory: DDR4 1600/1866/2133 MHz ECC-REG type up to 256GB

Remote Management: IPMI function support

Expansion: Supports 4 * PCIe x16 double-depth cards, + 1* PCIe x8 single-depth FH/HL card

PSU: max 1800W 1+1 redundant power supply with 80 PLUS Platinum level certification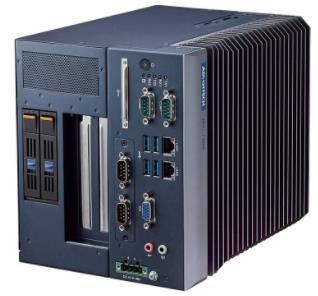 Edge Inference Server: MIC-7900AI
Fanless server for high erformance computing in harsh envirenment

4x LANs and iDoor supported for communication with sensors
NVIDIA GPU Card: SKY-TSEL-P4-PE
GPU Technology: Telsa P4

Form Factor: Dual slot ATX

Card Interface: PCI Express® 3.0 (X16)

Video Decoder: HEVC, H.264, VC-1, MEPG-2, MPEG-4 part 2 decode

Memory Clock: 6000 MHz / 8 Gpbs
Video Capture Card: DVP-7011MHE
1 channel HDMI/DVI-D/DVI-A/YPbPr channel video inputs with H.264 software compression

30/25 fps (NTSC/PAL) at up to full HD resolution for recording and display

PCIe M.2 (B/M) host interface